Background
Stevioside is a natural component extracted from Stevia, which is following the cane sugar and beet sugar as the third natural sugar substitute with development value and health advocates. The appearance of stevioside is white to slightly yellow crystalline powder, has the characteristics of high sweetness and low calorie. Its sweetness is 200 times to 300 times than cane sugar, but calorific value is only 1/ 300 of cane sugar.
Stevioside extraction of traditional process is by flocculation of removing impurity, centrifugal separation, usually adopts iron or aluminum salt inorganic molecular as flocculant with lime as coagulant aid by acid-base neutralization reaction and formation of flocculation precipitation, but the flocculation reaction is slow, stevia sugar Gan in the condition is easy to be broken, at the same time, dosage of flocculant, flocculation and filtration clarification cycle is longer.
Using membrane technology for Stevia extract of impurity removal, separation and concentration, can avoid the drawbacks of the traditional process, also can improve the extraction liquid polysaccharide purity.
Process Diagram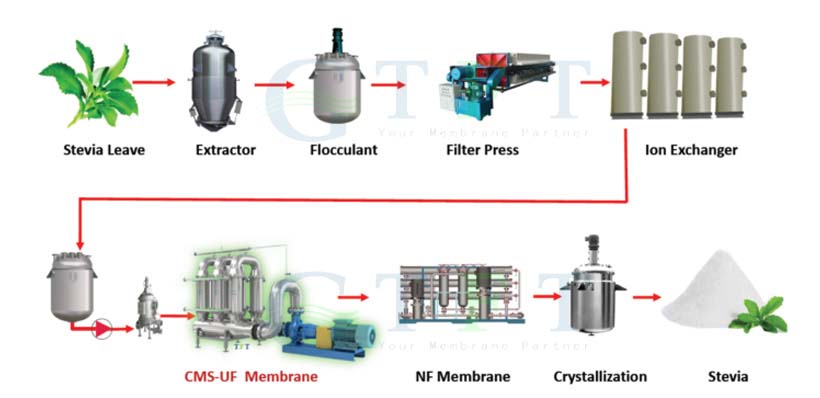 Process Advantages
● High quality filtrate.
● Reliable performance for long period.
● Simple process .
● Less waste discharge.
● Compact design with small footprint.
If you need more details about ceramic membrane process for stevia extraction ,please do not hesitate to contact with us or send email to us. TFT is willing to communicate and share information with you on engineering process issues. We are looking forward to developing more market and more applications with your help, bring this new technology to end users, create more values and benefits for all parties.