Background
Soy sauce being eight kinds of amino acid and trace elements is an essential component of human nutrition and health. Due to the application of traditional technique, the long existing problem of secondary sediment of soy sauce which has caused poor appearance, especially finished goods soy sauce on the shelves needs to be solved. Some high grade products export to the United States and Europe should be solved the problem of secondary sediment of soy sauce in order to enhance the competitiveness in international market.
The method is simple and feasible but energy consumption is very high, moreover, flavor of soy sauce will be affected while applying in high temperature disinfection, if the temperature is low enough and disinfection is done by halves, the quality of soy sauce especially table soy sauce is difficult to come up to the required sanitation standard.
Besides, colors of soy sauce is easy to darken after disinfection, large amounts of bacterial residuals settling in the products cause cloudiness phenomenon to product quality loss and treat difficultly.
Inorganic ceramic membrane separation technology had been extensively used in food and fermentation fields. This technology used as a substitute for heating, removing thallium and turbidity. It can remove heat-resistant bacteria; keep soy sauce from perishing based on retaining original flavor and save previous process of diatomite filtration. It also can discolor in order to make from white soy sauce to meet people's requirements. Heat and oxygen stability of soy sauce after discoloring are been notably improved while contain of Fe, Mn and Zn will reduce.
Process Diagram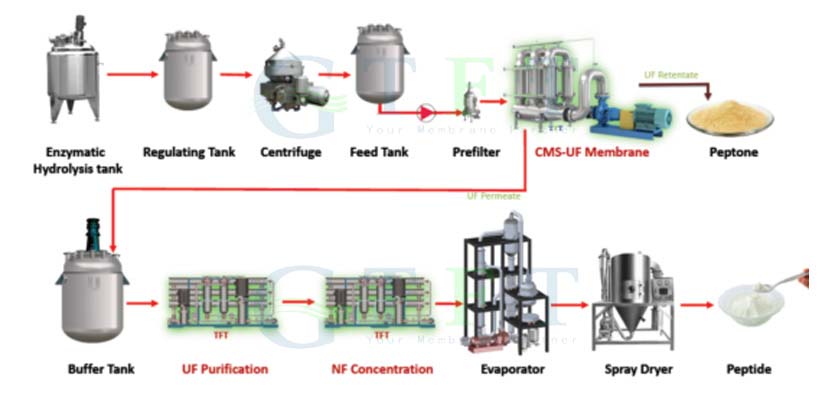 Process Advantages
● High quality of filtrated sauce
● High resistance to temperature and pressure
● Intensive to bacterial action
● Bepeatedly sterilized
● Long lifetime
If you need more details about ceramic membrane process for soy sauce ,please do not hesitate to contact with us or send email to us. TFT is willing to communicate and share information with you on engineering process issues. We are looking forward to developing more market and more applications with your help, bring this new technology to end users, create more values and benefits for all parties.