Background
Fruit and vegetable juice, one of taste mild beverages rich in very high nutritious value, is made from fresh fruit and vegetable through a series of processing process. Thanks to many benefits to people health, it is more and more welcome. With increases of peoples' requirement for natural food and beverages, pure nature and high juice content are characters of future development trend of fruit and vegetable industry..
Traditional processing of fruit and vegetable juice such as filtration, clarification, concentration and sanitization usually damage bio-active and thermo-sensitive substance to some extent, which have negative effect on product quality like glossiness, flavour, color, and nutrition. Theses traditional process, not only result in low quality and high cost of products and wastes lots of resource, but also produce much more waste water and disposal due to difficult to treat further, and will harm environment in the end .
Membrane separation technology is a initiative way to "cold" process,especially to process bio-active and thermo-sensitive substance due to purely physical separation technique , has been widely used to clarify and concentrate in fruit and vegetable juice for decades. TFT has developed new ways of fruit and vegetable juice processing with integrated membrane separation technology.
>>Clarification of fruit and vegetable juice with CRM ceramic membrane
Clarification of fruit and vegetable juice mainly removes pulp, fiber and soluble starch. Ultrafiltration with CRM ceramic membrane not only obtains clarified, stable, natural and nutritious product, but also removes microorganism which will spoil juice, guarantees product quality.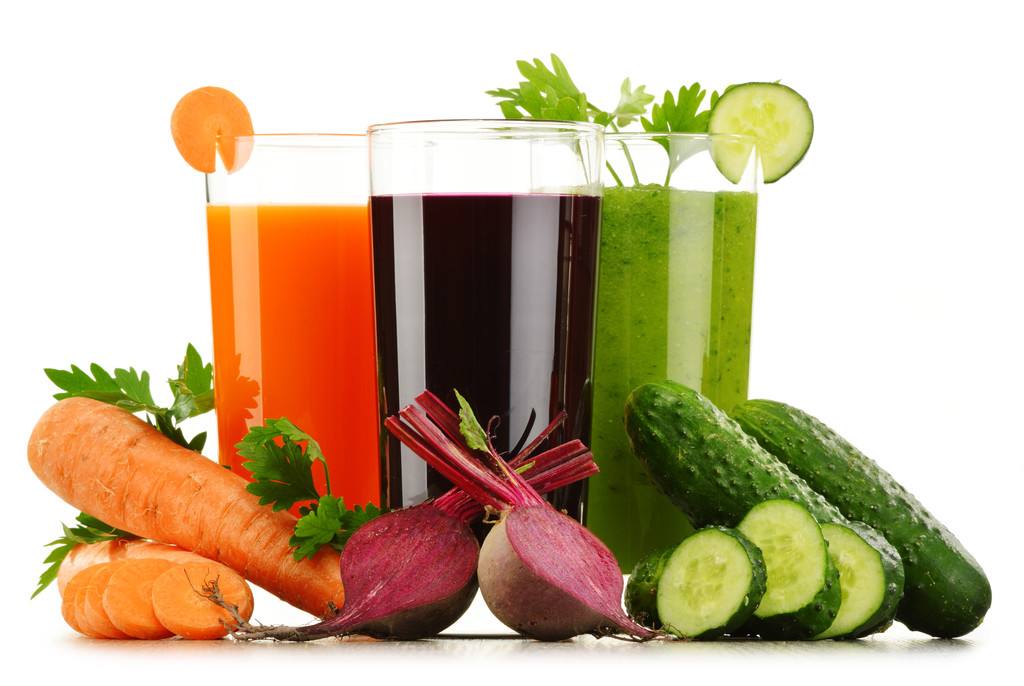 Process Advantages
●Mild operation condition
●No loss of flavour, colour and nutrition
●A green technology, no need to diatomite
●Not only remove microorganism, but also save lots of energy
●Simplify clarification process
●Integrated RO system to further concentrate high concentration juice
●Strong anti-pollution ability
●Good regeneration performance
●Long service life
>>Concentration of fruit and vegetable juice with integrated membrane technology
After clarification of fruit and vegetable juice,in order to be convenient to transport, save and package, large amount of water should be removed by concentration so that juice volume can be reduced and total solid content can be increased at same time.
The best concentration result is that no colour, no taste, no clarity is damaged. But traditional way of multistage vacuum concentration and freeze concentration can not reach this target due to phase change taken place in concentration process. As a green separation technology, membrane separation is a purely physical separation without involvement of any phase changes, during concentration at ambient temperature, almost all natural, bio-active and thermo-sensitive substance get reserved.
As a pioneer of solution to filtration problem with innovative technology for many years, TFT developed a kind of integrated membrane technology to clarify and concentrate fruit and vegetable juice, producing high economic benefits.
Process Diagram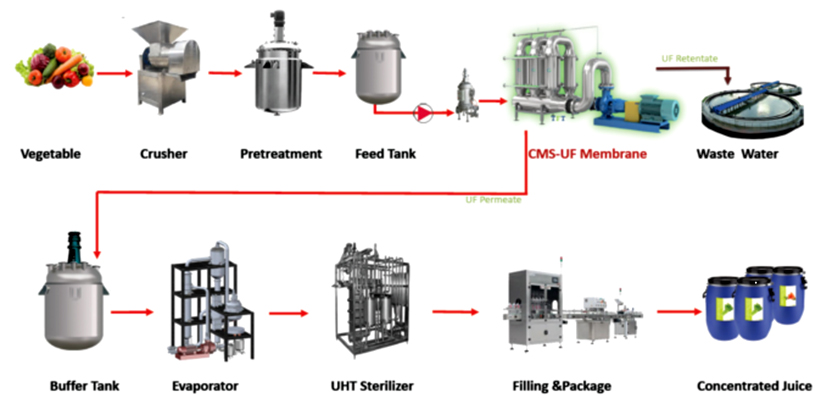 Process Advantages
●Improving quality of concentrated juice
●Saving a lot of energy
●Large amount of water removed
●Filtration with UF removes pulp and suspended solid
●Strong anti-fouling
If you need more details about ceramic membrane process for vegetable juice production,please do not hesitate to contact with us or send email to us. TFT is willing to communicate and share information with you on engineering process issues. We are looking forward to developing more market and more applications with your help, bring this new technology to end users, create more values and benefits for all parties.